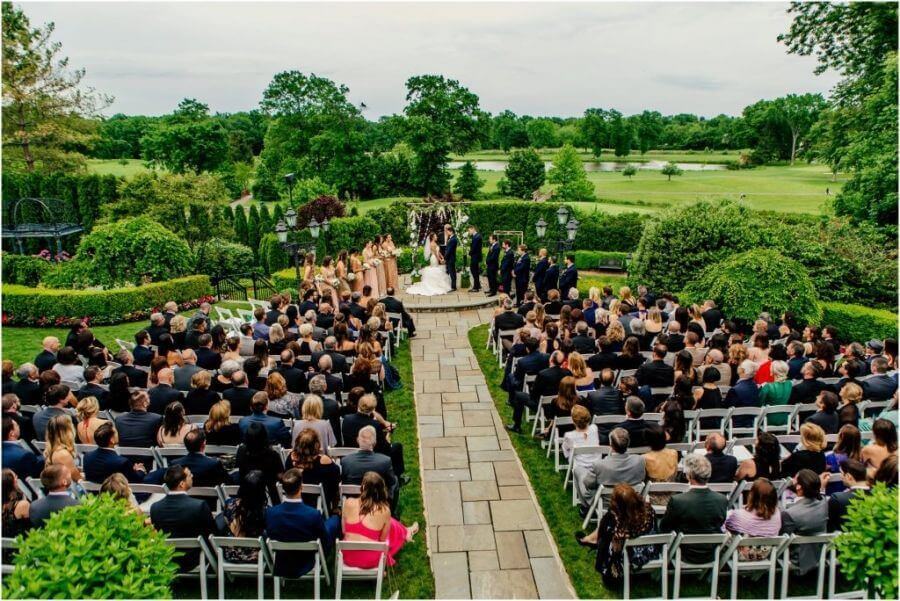 Ethan and Faith soon to be titled Mr. and Mrs. Geron had a smash of a wedding at the elegant Park Savoy Estate in Florham Park, New Jersey.  The couple selected the After Party Band from Around Town Entertainment to provide a night of music, celebration and dancing.
It all began after the couple exchanged their vows and said, "I Do!"  The guests were invited to begin the night with cocktails, laughter and music.  A musical trio of keyboard, bass and guitar from Around Town Entertainment delighted the guests with the bride and groom's requested hour of Beatles hits.   What a great way to start a wedding with songs like "Here Comes The Sun" "Eleanor Rigby" and "She's Got A Way."
When looking for the best New Jersey wedding music a couple has to start by viewing one hundred percent live music videos on the Around Town Entertainment website.  There they can find thirty minutes of video for each of the five New York wedding bands.   Ethan and Faith fell in love with the vocalists from the After Party Band, especially the lead vocalist who authentically wailed a Whitney Houston song.    The band was the hit of the night playing continuous live music for the full reception as the guests rocked the dance floor.
It all started with the explosive bride and groom introduction into the grand ballroom.  The band played the ever so popular song, "You Make My Dreams Come True" by Hall and Oats.  The crowd really did go wild as they screamed for the newlyweds.  But we cannot forget the most intimate moments for the bride and groom that came next.   The couple had their very first dance to the unique and beautiful song "Til Kingdom Come" by Coldplay.  The bride then had a dance with her dad to the cool country song "Wagon Wheel" by Darius Rucker.   The groom danced with his mom to the song "I Love You For Sentimental Reasons" the Linda Ronstadt version.  It was a very sweet and emotion time of the evening for this beautiful couple and their parents.
Mr. and Mrs. Geron loved the classic styles and artists such as Bruce Springsteen, Abba, Billy Joel and of course the Beatles.  The NJ wedding band definitely delivered as promised on all the above.  The guests really loved these classics, and everyone cheered the band on as they performed each favorite song hit.  Whether it was the famous Bruce song, "Glory Days," a Jersey favorite, or "Dancing Queen" or "Satisfaction," the dance floor was always packed with an elated crowd.
Around Town Entertainment was honored and thrilled to be part of this fabulous park wedding at the elegant New Jersey wedding venue, the Park Savoy Estate.  What a thrill for us to be part of the defining moments for this bride and groom to set off and begin the rest of their lives together.  And they seemed so perfect for other.  We couldn't be happier for them.  Around Town Entertainment www.aroundtownent.com