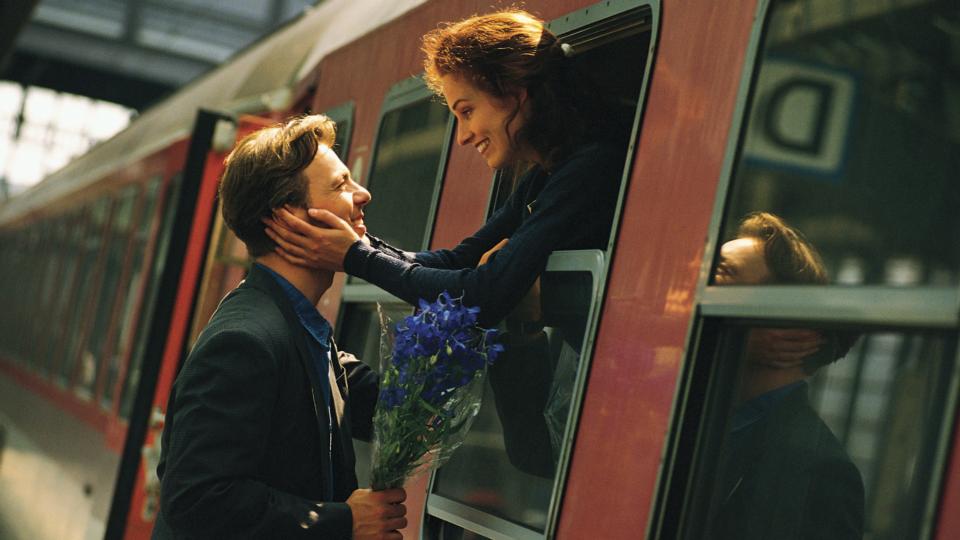 Sophie and Seth are both from Brooklyn. They first met on the PATH train. Like the plot of the classic film "Brief Encounter" set in a railway terminal, Sophie and Seth's meeting was impossibly romantic.
"We'd noticed each other at the PATH station at Liberty View for months," recalls Lauren, who commutes to Jersey City every day from her home in Brooklyn. "I'm 5-foot-10-inches tall so it cuts down the number of eligible guys because I don't like to tower over them."
Seth is 6-foot-3 inches tall and really stood out from the crowd. He was smartly dressed and Sophie couldn't help thinking he was good-looking and sexy. The two regularly exchanged admiring glances but neither was brave enough to act on them.
Six months went by and, although they always rode in the same overcrowded first car, almost rubbing shoulders, nothing was said. Then, of all the days Seth finally chose to finally speak to Sophie. "He was in the seat next to me and asked if I worked in his building. I told him I didn't, but it was enough to break the ice." The rest was history.
It was a sunny evening last July and Seth walked her to her express bus stop near Ground Zero before asking for her phone number. It was her turn to be brave. She literally said, 'What you really mean is that you want my phone number,' "says Lauren. Two days later he called to arrange a date.  They had a meal before flirting over drinks at the atmospheric One If By Land, Two If By Sea restaurant in the West Village.
Their instincts were right because they got along famously and soon became an item. On June 3, 2018, they got married. The best part is that they invited Around Town Entertainment to play at the wedding at the most romantic spot- India House in Manhattan!
India House has a long and distinguished heritage tied into the formation of lower Manhattan as well as the history of business and commerce of New York. Now the venue itself…indescribable! As you walked up the cobblestone streets, there were chandeliers glowing inside through the windows and it felt like being transported back to a different time in NYC. 
Once you step inside, that feeling does not go away! It was beautiful, historical, and so unique for a wedding. There were a little over 200 people at the ceremony.  As Sophie and Seth exchanged vows, a pianist provided by Around Town Entertainment played classic hits from Celine Dion to Britney Spears, putting the mitis touch on the couple's official first kiss.  
After that, Around Town Entertaintment's Altitude Band continued on the night playing hit after hit during the cocktail hour and dinner. The venue rocked the 9-piece band that was perfect for dancing! Everyone we talked to loved the music from the wedding band! 
The Altitude Band always brings high energy experience to every event. They have elite, talented and studied musicians that have toured with some of today's top artists. Book them today!
Thank you for choosing Around Town Entertainment, Sophie and Seth! 
Keep up with our latest adventures here: https://aroundtownent.com/blog/