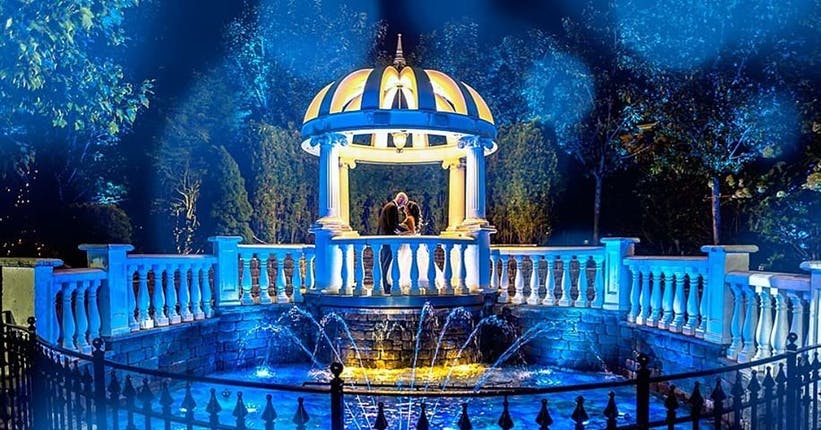 It comes down to an odd Profile on Tinder and a very understanding woman who took a chance on a lucky guy in Brooklyn.
Even though she never saw The Big Lebowski and had no idea what his profile was referencing she loved the simple picture of him and his grandparents. After a few weeks of talking through the app and on the phone, Jessica and Benjamin finally had a faithful date at Bryant Park's Winter Village, where they talked, drank wine, and had amazing hot chocolate!
From then on there were nights of ordering from her favorite Pizzeria in the Bronx, eating pickle ice pops, watching Star Wars films, and dancing with their handsome cat Newman. Though their interests are so diverse, from his odd fascination in Super Heroes and Horror to her intense dedication to the protection and care for every living animal on this earth, they share a bond and commitment to each other that can never be broken.
On May 5, 2019, the union of these two souls destined to meet had their future created together forever. We were delighted when they asked Around Town Entertainment to play at their wedding. We also had a special set for this evening ready to go! 
They held their special day at the Westmount Country Club in Woodland Park, New Jersey. For over fifty years, the legendary One & Only Westmount Country Club has been a one-of-a-kind wedding location that we've dreamed of playing at. 
As we entered into the palatial estate, we were welcomed with a grand drive up cobblestone accented with decorative wrought iron gates, flowers, and romantic street lights. The renowned property offered timeless elegance and peaceful seclusion. On this perfect wedding day, we were are on 30 acres of pristine landscaping overlooking the picturesque Garret Mountain. Wow!
Sparkling Champagne awaited guests as they arrived for the ceremony. The pianist from Around Town Entertainment played Elton John and The Beatles as the bride and groom made their entrance. Their first kiss was in front of a picturesque outdoor and a beautiful lighted gazebo, fronted by a sculptured fountain and waterfall that created the perfect setting for the wedding ceremony! 
After that, the celebrations continued into the Grand Ballroom for cocktails and reception! The Grand Ballroom was an intimate setting with its large picture windows overlooking the scenic Garrett Mountain, and lots of natural light. It almost created an ideal ambiance for a picture perfect wedding ceremony. Picture perfect!
The couple's first dance wedding song was "Yeah 3x" by Chris Brown performed by Around Town Entertainment's A-List Band. Legendary! The bride chose "I'll Be Loving You Always" by Stevie Wonder as her father and daughter wedding song. "Your Song" by Elton John was the selected song for the Mother and son wedding song. The bride and groom also got to hear some of their favorite wedding dance songs played by the band from Michael Jackson to Sade as guests danced and laughed all night.
Around Town Entertainment was thrilled to have been chosen by our clients as the best New York wedding music and New Jersey wedding music. For all your New Jersey wedding band needs, please visit https://aroundtownent.com/new-jersey-wedding-bands/