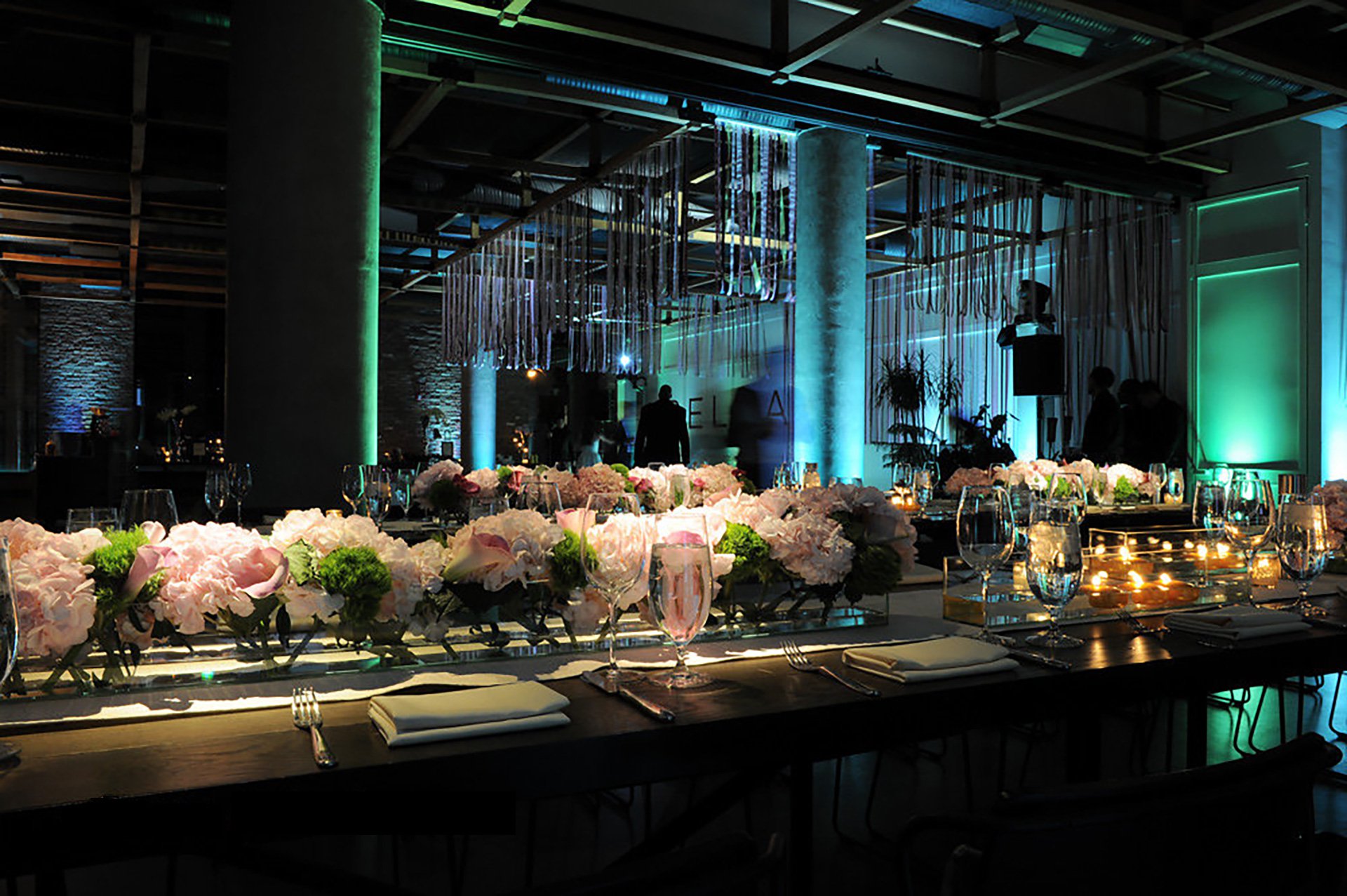 February 22, 2020 was the night it all began.   It was the night that Lauren and John got married and became Mr. and Mrs. Kahn.  The couple chose to have their ceremony and their full reception at the New York City venue SECOND NYC located at 849 Sixth Avenue in Manhattan.
The celebration was designed with music and love as the theme.  The event planning company, The Day Of Company along with Julie from SECOND NYC helped bring the couple's vision to life.
The music and entertainment were all provided by the New York City wedding music and entertainment company, Around Town Entertainment.  The ceremony music, the cocktail music and the New York City wedding band music was custom designed for this very special couple.
The couple chose the exact music they loved for their most important ceremony moments and their vows.
The intimate ceremony began with the most beautiful songs.  The bridal party walked in with the song "La Vie En Rose" by Edith Piaf.  The stunning bride selected the classic song "Can't Help Falling In Love."  The soft and delicate piano version by Around Town Entertainment created the warm emotion as the groom set eyes on his beautiful bride.   After the couple exchanged vows and were officially husband and wife, the room exploded in applause as the song "I'm A Believer" from the Monkeys played in the background.
The guests joined the bride and groom and enjoyed cocktails and great conversation on the terrace as the classic jazz trio from Around Town Entertainment created that perfect mix of sophistication and elegance.
As the guests were escorted to the main reception, the Altitude Band from Around Town Entertainment was playing lively songs for the entrance.  The full band had the guests excited for what was to come.  The bride and groom and their immediate friends and family were officially introduced into the reception as the band played the couple's edgy song "Sexy and I Know It" by LMFAO and "Right Round" by Pitbull.   The bride and groom had their official first dance.   They went all the way classic with the Bobby Darin song "Beyond the Sea."  The bride also had a very special dance with her dad.  They chose the song "Vienna" by Billy Joel.
The rest was history.  It was a night of dancing, music and celebration as the guests danced to the continuous dance music played by the live band.   The couple also requested a couple added songs such as "Sucker" by Jonas Brothers and "Blame It on The Boogie" by Jackson 5.  Of course, the band was excited to oblige and performed these songs as they couple cheered with delight.
It was a night that Mr. .and Mrs. Kahn, their family and friends will never forget.  Around Town Entertainment will also never forget the honor of being part of this beautiful celebration.   For more info about the Altitude Band and the other Around Town Entertainment bands, view live and unedited videos of each band at www.aroundtownent.com