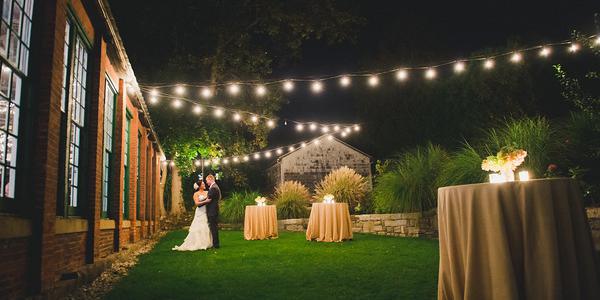 SMILE!!! That is the one word that stands out the most when I think of Devin & Josh's wedding on September 5, 2020. The entire day, their faces were just lit up with the most infectious smiles, and it truly made for one of our happiest weddings of all time!
Devin and Josh had a vision in mind when it came to their Fall wedding at the incredible Lace Factory. While they knew the general direction they wanted things to go in, we took Devin and Josh's vision and helped bring it to life. With the help of some crafty & creative ideas and song requests from their family members and friends, we crafted a very special wedding playlist while adding some of our personal touches into the mix as well!
Speaking with Devin and Josh before the planning process also gave Around Town Entertainment a really great idea of how incredible their wedding was going to be. Once the band was around all of their family and friends, the wedding band truly understood why they were always so happy! They certainly had us smiling (and laughing) all day long!
The wedding day was a combination of modern elegance meets vintage. Devin and Josh had had a stunning, timeless look and the day began with an intimate ceremony officiated by one of Devin and Josh's best friends. Standing in front of a backdrop of beautifully draped chiffon panels, Devin and Josh committed to spending the rest of their lives together with the pianist from Around Town Entertainment's pianist playing a cover of "Wonderwall" by Oasis with their friends and family in attendance.
The couple wanted to keep it super intimate, so they wrote their own vows and exchanged roses as a symbol that whenever words can't be found or a common ground cannot be met, the rose is to be placed somewhere in the house as a sign of our promise and vow to choose and love each other every single day through the good and bad. How sweet!
After that, guests boarded the Essex Steam Train to enjoy the views on their way to the reception at the Lace Factory while the bride and groom took a car service to enjoy their first moments of newlywed bliss. 
Inside the expansive room at The Lace Factory, a blend of rustic and industrial elements created a romantic aesthetic with the help of string lights, which were strung around the exposed beams on the ceiling. The natural beauty of the space didn't require much added decor, so to bring the room to life, Devin and Josh put small floral arrangements in used wine bottles on tables atop a round slice of wood, which featured simple greens and flowers with white petals. To find their seats, each guest had a shot glass with their name on it that was filled with sangria. "Once you found your seat, you took the shot and saved the glass," says Devin.
After a seated dinner and cocktails, Devin and Josh had their first dance to Brad Paisley's "Then" performed by  Around Town Entertainment's Authority Band. And then, the wedding party had a shocking surprise in store for the newlyweds. With top hats in hand, the entire group choreographed a dance to a compilation of songs from James Taylor. 
For the rest of the evening, The Authority Band played all of their favorite songs from Brian McKnight to All American Rejects, which kept guests on the dance floor all night long. "Naturally, we couldn't keep our hands off of each other, and we didn't part the entire night," said Josh. "It was arguably the best day of our lives."
Around Town Entertainment was honored to have been chosen as the best NY wedding band, NJ wedding band, and CT wedding band.
Congratulations Devin and Josh!