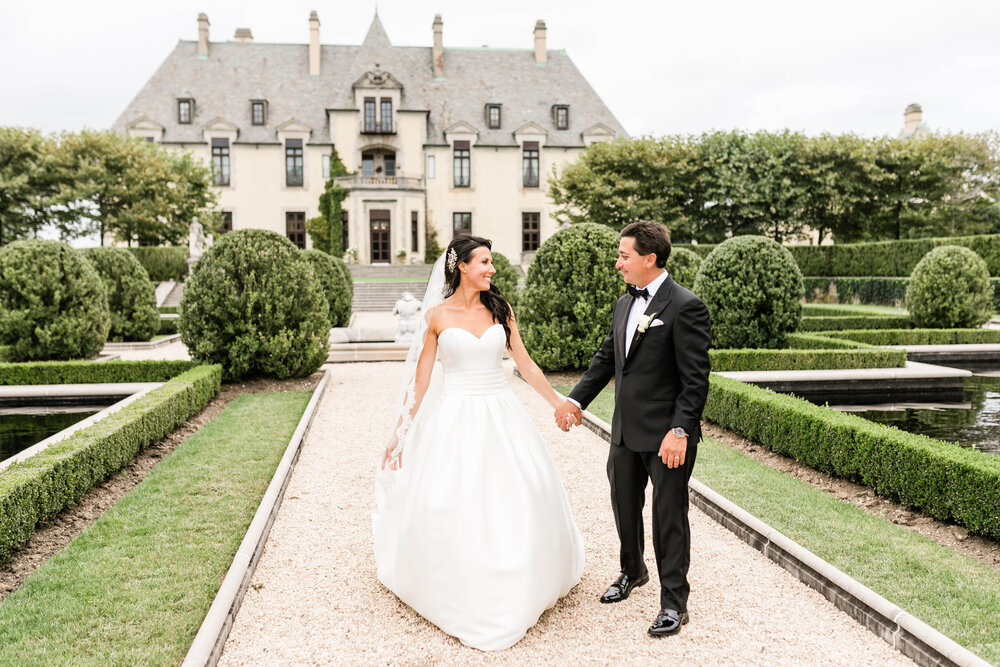 Erika and Vincent's beautiful Oheka Castle wedding on June 14, 2019 was truly a wonderful day to be a part of! Around Town Entertainment loved every single moment of playing in this one!  This beautiful wedding venue in Long Island, NY is incredible. It's the perfect historic venue for classic wedding days, like Erika and Vincent's was! 
We waited for months to play at this wedding! It is one of America's grandest castles and was a treat to play in a location with as much history as the golden age of the Roaring Twenties. And with just one wedding a day, OHEKA truly was a castle we could call our own!
With the help of the bride and groom, Around Town Entertainment planned a stunning wedding day playlist to celebrate Caroline and Jay's very special day. With all-white florals, pale pink bridesmaid gowns, and a classic car for portraits, we seriously loved everything about this wedding! 
The day began with all of the getting ready and Erika surprised Vincent with a Rolex he wore proudly all day long. The two met for the first time at the aisle during their classic church ceremony and then headed back to Oheka Castle for portraits. This iconic property was full of perfect locations for their portraits and bridal party portraits! The classic car even fit the look of the estate perfectly!
After plenty of portraits, it was time to bring Caroline and Jay into their reception. Their black tie theme was elegant to the max! White flowers and lanterns lined the staircase of the Castle and their centerpieces mirrored the feeling as the A-List Band from Around Town Entertainment dazzled guests with star-studded hits ranging from Taylor Swift to My Chemical Romance.  
As The A-List Band played in the background, the bridal party entered to "Marry Me" by Train, while the bride and groom entered to "Beautiful Day," by U2 and danced their first dance to "Thousand Years" by Christina Perry  Father and daughter danced to "93 Million Miles" by Jason Mraz, while mother and son danced to "All-Star" by Smash Mouth.
Guests also enjoyed dancing to Frank Sinatra, Sugar Ray, Billy Joel, and of course, Whitney Houston.  Everyone enjoyed the music, the dancing and the fun!
With their guests, Erika and Vincent danced the night away celebrating!! From start to finish the wedding band kept the vibe going and the guests were so happy! The wedding couldn't have been any more perfect! OHEKA was a fairytale! 
As a band, we have re-lived this day many times in our heads!  
The A-List Band recognizes the importance of creating the perfect event, so from the first introduction to the day of the event, each client is given specialized attention, which entails customizing music for each event, professional and immediate attention to detail and bringing the exact desired effect to each event.  
Around Town Entertainment was honored to have been chosen as the best NY wedding band, NJ wedding band, and CT wedding band.
Congratulations to you two! What a seriously perfect day!