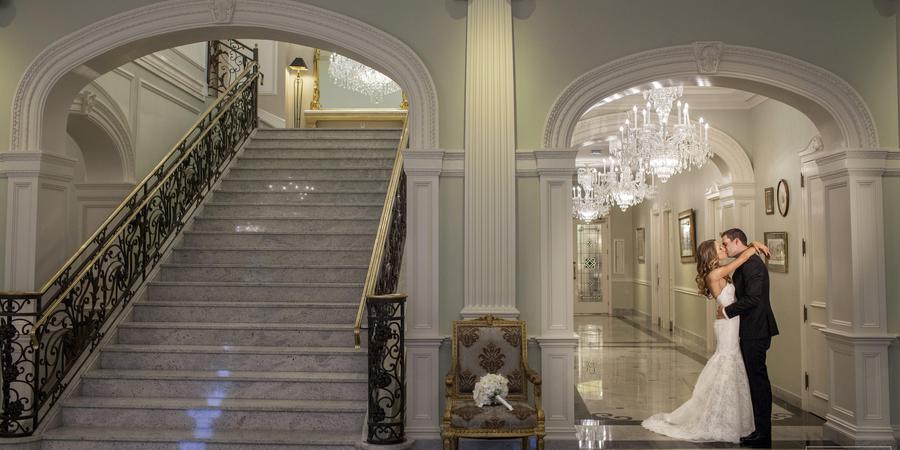 On December 9, 2014, Brandon Schifrien had a rare opportunity to leave his office early for an event. As he stepped onto the E train at World Trade he had no idea what to expect for the night, he especially wasn't expecting to "re-meet" his future wife on the E train.
As the train approached the Spring Street stop, his future wife and former co-Blue Rillian happened to get on at the door that Brandon was standing at. This was the first time that Brandon and Halie Cohen had seen each other since their Blue Rill days. They quickly re-connected during the next few stops and Brandon stepped off without him or Halie knowing what was to come.
After a Facebook Message conversation and some initial dates, their relationship quickly took off. After numerous vacations, sporting events (which always seem to involve bad weather), BBQs at the pool, family time, holidays and an engagement, they tied the knot on April 13, 2019.
Around Town Entertainment couldn't be more excited to play in front of everyone! There is clearly no venue more elegant and appropriate for the start of your beautiful life together than The Rockleigh in New Jersey. Although a picture may be worth a thousand words, we can't begin to describe what we pictured on their wedding day. The space was surrounded by gorgeous gardens and lavish ballrooms, setting the perfect background to a romantic evening!
The day began in The Georgian Chapel where guests gathered to usher in the bride and groom. As the two newlyweds exchanged vows, a guitarist provided by Around Town Entertainment played in the background to set the mood and tempo for their very important day. We are proud of the new couple and glad that we were able to be part of their "new life."
After that, it was cocktail hour! There was a ridiculous amount of hors d'oeuvres, such as Ceviche of Rock Shrimp and Mini Kobe Beef Sliders! Wow! We couldn't help but overhear them chow down the food while enjoying the outdoors amidst the gardens and fountains. Also, guests were served with an amazing display of cocktail stations with premium top-shelf liquors and wines!
Next, we moved to the Grand Pavilion for the reception and more festivities! Upon arrival into the newly redesigned Grand Pavilion lobby, we were immediately intrigued to find an endless marble inlaid dance floor, dining at tables decorated with fine china and imported linens, walls awash in up-lighted colors, and the delighted amazement of family and friends. The bride and groom made their entrances. They had their first dance with their parents. It was spectacular to see!
We can't forget about the food. It was on a different level! Guests had the choice to select their own personal preference when offered a choice of meat, fish or poultry for their main course. We loved the Rib Eye Steak with a Sage Infused Demi-glace! Yum! Each course was aesthetically composed and seasoned and cooked to perfection! From the first hors d'oeuvre to the last bite of the wedding cake, we certainly savored the memory of this fantastic dinner to celebrate Halie and Brandon's married life together!
When dessert was finished, the party continued with the Authority Band provided by Around Town Entertainment performing an intimate showcase for the guests. From Whitney Houston to Journey, the wedding band played hits that kept the floor pumping with sweat and energy. What a night!
Congratulations to the newly married couple!
Check out our last event!