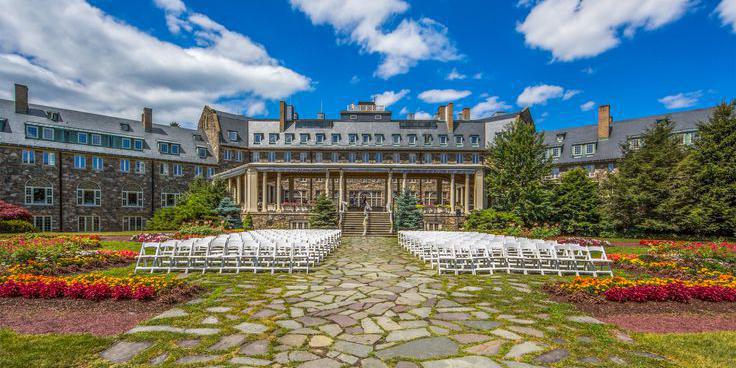 On a cold autumn night in October, Corinne was bartending in Williamsburg, and her friend was doing a shot with this guy at the end of the bar. Immediately, she was like, "Who is that?" She immediately noticed Ken, and I was like, "Oh my god, this guy is very cute." So after during her work shift, they started talking, and he bought her a drink. 
Ken recalls her exact words-, "I'm not making drinks for anybody else. I'm doing the shot with him!"  They didn't even exchange numbers that night after talking for hours.. Luckily, Ken came back to the bar a week later, on a chill Sunday night. Corinne was  getting off her shift when she saw Ken. So they decided to hang out for a minute and grab a drink at the bar.
There was a DJ and a lot of dancing. Then they went over to another bar in Bushwick. They were hanging out at the bar and talking, and finally had their first kiss there. Super laid-back—casual and easy!
Fast forward just a couple years later, they were planning their wedding at Skytop Lodge in Skytop, Pennsylvania! The couple enlisted Around Town Entertainment to play on their special day. They chose the award winning  Around Town Band for the reception.  The bands elite, talented and studied musicians have toured with some of today's top artists. They have been featured as artists and musicians in their own right on major records and have graced some of the world's biggest stages!
On their wedding day, September 2, 2020, we traveled through a ton of winding roads to get to the 5,500 acres establishment that is Skytop Lodge. It is one of the most coveted wedding destinations in the Northeast, creating the perfect backdrop for Ken and Corinne's new chapter together!
The ceremony took place at Skytop Lodge's Formal Garden. Over 50 friends and family took their seats as they waited patiently for the couple to walk down Skytop's dramatic outdoor staircase. As the guitarist from Around Town Entertainment performed "A Thousand Years" Christina Perri, the bride headed towards the aisle in stunning fashion, flanked by the beautiful gardens surrounding the very important persons of the day. When the bride finally kissed the groom, the wedding guitarist played "Paradise City" Guns n Roses as guests cheered and sang their hearts out.
The party continued in the South Lawn for cocktails and the reception. Secluded on the water with a deck for moonlight dancing and an outdoor fire pit, this was the perfect setting for an intimate wedding. A jazz trio from Around Town Entertainment dazzled the crowd as they enjoyed fine cocktails and bursts of laughter. Then, it was time for Around Town Entertainment's Around Town Band to take the stage. 
The wedding band played "You Are the Best Thing" by Ray La Montague as  the newlyweds made their grand entrance to a roaring crowd. Next the father and daughter had their own duet to  "Wonderful Night" Eric Clapton. The mother and son had their dance to Rascal Flats "My Wish." After dinner and cake, the dance floor was packed all night as the Around Town Band performed songs from Bob Seger, Beyonce, Puff Daddy, and many more to finish off an epic night!  
We wish you well Corinne and Ken!
For live video footage related to Around Town Entertainment please visit www.aroundtownent.com