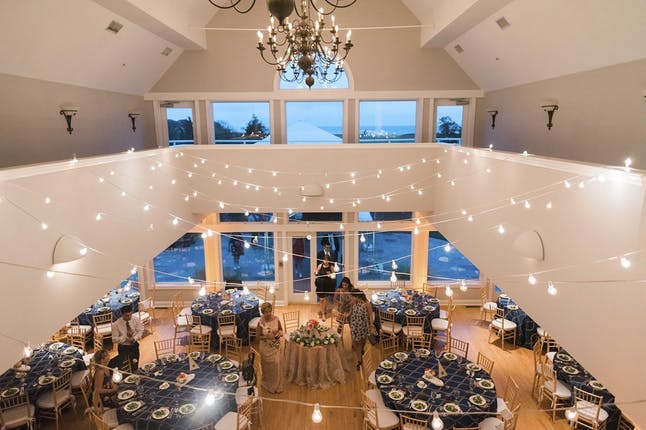 Allison and Patrick met all the way back in November 2014 in Yorkville. Patrick and his friends were going out every single night. On night four or five, a couple of them rallied: "Let's just go to a local bar, nothing crazy." 
The first time Patrick saw Allison, he drank enough to have courage and go talk to her. After exchanging numbers, Patrick went back to his friend's apartment feeling pretty giddy.
Patrick texted two days later, on Saturday morning, and asked Allison to go out that night. They got along instantly, had the same music tastes, and never wanted the night to end. After bar hopping, Allison ended up inviting him back to her apartment with a bunch of her closest friends. They discovered that, the entire week, he had been staying in the apartment directly above hers! They had crossed paths a million times! 
Fast forward to their wedding on October 9, 2020 at the beautiful Guilford Yacht Club in Guilford Connecticut. Around Town Entertainment was so excited to perform at their special day in front of all their family and friends. The Guilford Yacht Club, nestled among vast, virgin salt marshes on the bank of the West River in Guilford Connecticut, creating the perfect spot to perform at!  
Guests were surrounded by undisturbed natural beauty, including spectacular views of Long Island Sound and Faulkner's Island while sipping on delicious cocktails to start the evening. Around Town Entertainment's jazz trio was there to provide the background music to relax and make sure they had a great time.
After that, Around Town Entertainment's After Party Band took the stage to start the reception. The bride and groom had their entrance to the song "Style" by Tylor Swift. Next they had their first dance to "Scenes from an Italian Restaurant" Billy Joel. Following that up was a beautiful dance from the father and daughter to "The Way You Look Tonight" Tony Bennett. The mother and son also had their dance to Beach Boys "God Only Knows." Then, it was time to do more dancing as the After Party Band from Around Town Entertainment performed various hits from Van Morrison to Bruce Springsteen to end the amazing night! 
The After Party Band brings high energy experience to every event in Connecticut, New York, and New Jersey. The bands elite, talented and studied musicians have toured with some of today's top artists. They have been featured as artists and musicians in their own right on major records and have graced some of the world's biggest stages. 
Around Town Entertainment's After Party Band will ensure that your special day runs smoothly and seamlessly. Every song list is prepared carefully according to your every request. We specialize in performing in every music genre with a rich assortment of the most popular and up-to-date song list. We worry about the details and let you enjoy your day.
Congratulations to Allison and Patrick!
For live video footage related to Around Town Entertainment please visit www.aroundtownent.com