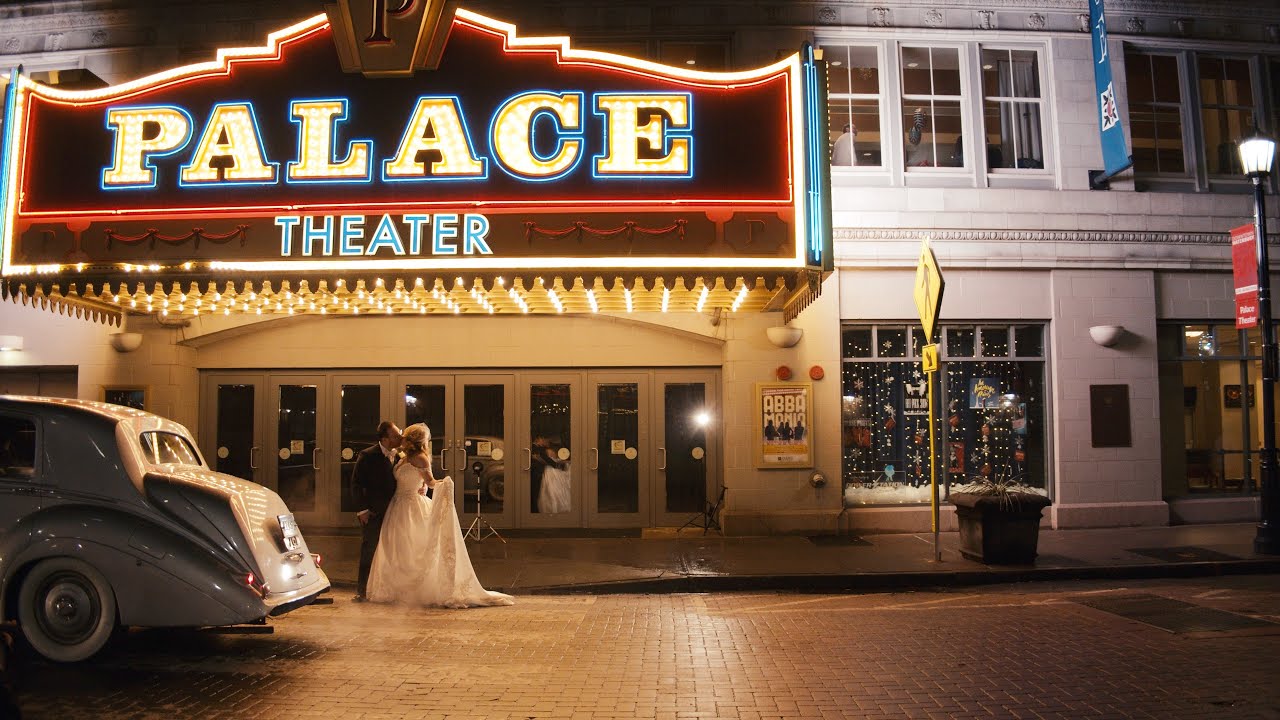 Joanne and Brian started out as cello partners in college. From chocolate croissants and holding hands for the first time in the movie theater to their first kiss in the snow, there was no one they would rather spend life with than each other.
One evening after leaving the cello class, Joanne went home to curl up in pajamas and rest. In the afternoon Brian told her he was going to go grocery shopping and about 20 minutes later she received a call from him. He had left the shopping list in his notebook! 
Getting up to find the list, Joanne found a white envelope labeled with names and numbers instead. Opening the note, she quickly discovered she was going on a scavenger hunt around Brooklyn. Written in rhymes and stamped with blue flowers, the hunt led her to their favorite museum, a sculpture garden, their favorite fishing spot, and lastly, Brian's family home.
When they arrived at Brian's a beautiful white dress, shoes, and pearl earrings awaited her. After changing, Brian led her outside for a walk, where they reminisced about their first date skiing, hiking together, and all the adventures they had been on.
After a few minutes of walking, they came to a beautiful picnic area, complete with rugs, chairs, cheesecake, and champagne. It was here where Brian got down on one knee. As Joanne turned around, she teared up and gave Brian the biggest hug and the biggest "Yes!" 
Around Town Entertainment provided the music for their wedding at 501 Union in Brooklyn, NY. The place is lovely, with a huge space and a lot of history. The building dates back to 1916 and once served as a classic car restoration shop. It was transformed into an event space in 2013 and now provides a unique backdrop for some of Brooklyn's most stylish weddings. The building is located in Gowanus Brooklyn – a quaint community by the Gowanus Canal that is great for capturing the look of an urban wedding. 
They had their ceremony in the courtyard and cocktails in the lounge to begin the day. The beautiful ceremony space was open-air, with nice greenery and lights hanging from the back wall while a guitarist and pianist from Around Town Entertainment played classical music. The cocktail lounge was also gorgeous and the lighting was as great as guests listened to a jazz trio perform cover songs of 90s pop and alternative music like Oasis and Goo Goo Dolls so that was definitely a unique moment.
The skylight in the main room was gorgeous and the layout was perfect.  The bride and groom had about 80 guests in the space. The room's sunroof was just magical as guests danced all night while the award-winning Around Town Band performed various songs by artists from Kelly Clarkson to Cyndi Lauper, the bride's favorites!
All in all, we loved the chic 1920s vibe. It has a much different feel than any other venues we have played at. The bride and groom had a blast and their guests loved the music!  
Best wishes Joanne and Brian!
Read more love stories at www.aroundtownent.com