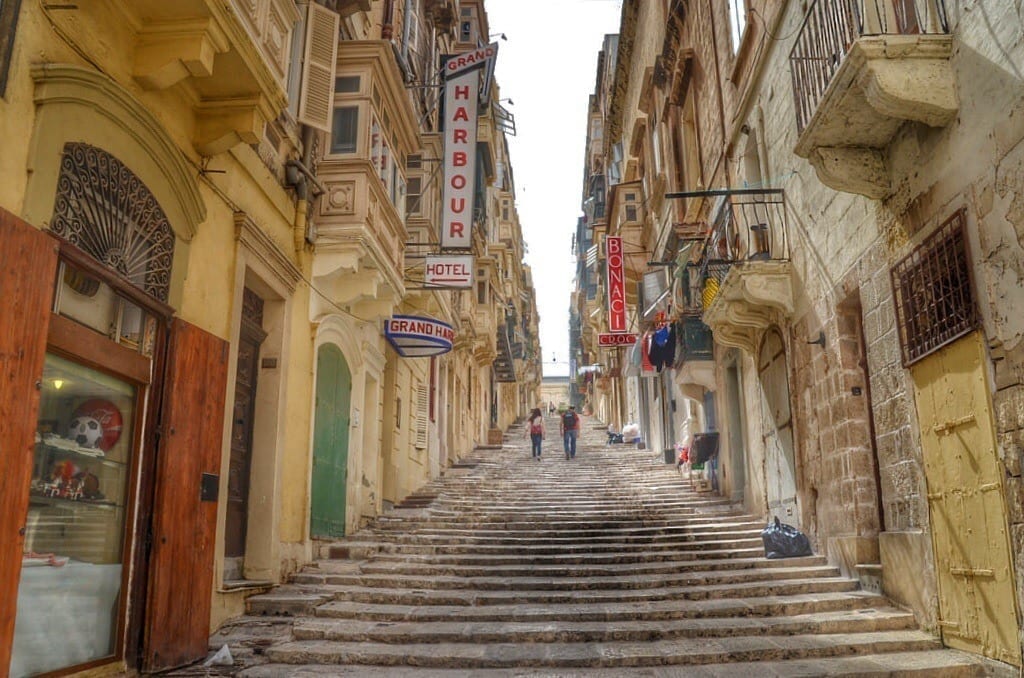 When Nicholas and Nazlie were children, they met in first grade. They were always childhood friends growing up, moving through life from the same elementary school to the same high school, to the same university.
Their love for music brought them together for their "first date" in 2011 as freshmen in college. A good live electronic music festival, popcorn, and soda were all they needed to start dating. 
Over the years, Nicholas had considered himself a "master of surprises." No matter how small, or large, he always found a way to catch Nazlie off guard. Nicholas first asked Nazlie to be his girlfriend in the parking lot outside a university dorm building with a simple, "Do you want to make this official, and be my girlfriend?"
9 years later, a few days after the New Year they were in Malta enjoying the Christmas markets. His dream was to see what the city of Valletta looked like. When they arrived, the Old Town square was immaculate with a large Christmas tree and lights much to the joy of Nicholas. Nazlie was looking up at the buildings, when Nicholas asked, "Do you remember what I asked you 9 years ago?" She acknowledged, recalling the parking lot at the university. He then turned to face her and asked, "Do you want to make this official- will you marry me?" 
As he knelt on one knee, her surprise was so evident. She stared at him for almost one full minute before grabbing his hands saying, "Yes!" From there, they journeyed and grew together. They supported each other during their undergraduate years, doing their best to get good grades, enjoy music, pizza, and beer. They cheered each other on when Nicholas got his first full-time job, added a full-time MBA program to his plate, and made the jump to NYC to live with Nazlie where they held their wedding at The Garrison in Garrison, NY.
The Garrison has a ton of history and Around Town Entertainment was honored when Nicholas and Nazlie invited us to perform for their very special day. The scenic wedding venue featured an indoor-outdoor event space where guests enjoyed dancing to high-energy music and cozy views of the dramatic surrounding landscape of the Hudson Highlands. 
A cellist provided by Around Town Entertainment set the mood for the day with a classic performance at The Garrison's pristine garden, with dramatic views of the lush surrounding mountains rolling into the Hudson River. It was an absolutely perfect location on a perfect day. As the bride stepped inside the ceremony site, the cellist played "Make Me Feel Your Love." Once the first kiss between bride and groom was made, a cover of "Viva LaVida" Coldplay was performed bringing smiles to their friends and family.
Guests then retreated to The Windgate Ballroom for the reception. This larger, but equally elegant space featured French doors that open out onto a stone terrace perfect for this romantic celebration. Around Town Entertainment's After Party Band was the main music act for the evening. 
The highlight of their performance was a cover of "You Make Loving Fun" by Fleetwood Mac during the bride and groom's first dance.  The entire ballroom came to life after that and the rest of the night was truly epic! The After Party Band brought a high energy performance for the rest of the wedding. Everyone was raving about the music and we were so happy they had such a great time!
Best wishes to Nicholas and Nazlie!
Check out www.aroundtownent.com to see wedding videos!