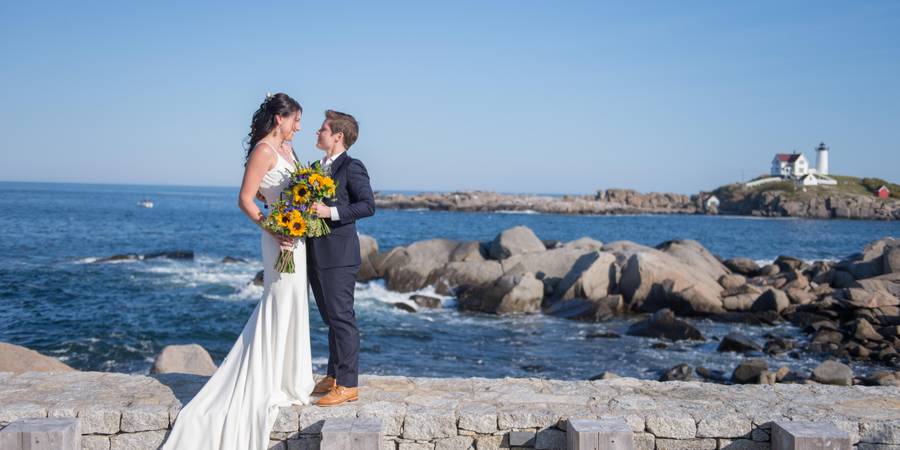 Brittany and Michael had been dating for a while and they both knew they were going to get engaged because they had looked at rings together. They actually had already been planning the wedding, but Michael hadn't actually asked. So you would think that there is no way that there would be a surprise, right? Ha! Wrong!
So it just so happened that on New Years Day 2018 – they have a family tradition of eating Chinese food and getting excited about fortunes. Michael's sister's boyfriend got up to help grab the fortune cookies and to pass them out to everyone. Everyone is cracking into their cookies when Brittany says "oh, look I've got two fortunes" then she yells (in front of the parents, aunts, uncles, cousins and grandpa) "#&%* Off!"
It turns out her fortune cookie said "Will you marry me?" and she thought Michael was playing a trick on her! Lo and behold, he wasn't! She turned next to her, he was on one knee, and the rest was history! 
They enlisted the award-winning Around Town Entertainment to perform at their wedding because they both have been a big fan of their unique performances and talented musical style for many years. The wedding band brings high energy experience to every event in Maine, New York, Connecticut, and New Jersey. The bands have elite, talented and studied musicians that have toured with some of today's top artists. They have been featured as artists and musicians in their own right on major records and have graced some of the world's biggest stages. 
On October 12, 2019, Around Town Entertainment traveled to The View Point Hotel in York Beach, Maine for Brittany and Michael's very special day. The panoramic Atlantic Ocean and historic Cape Neddick Lighthouse provided an ideal backdrop for a classic ceremony outside. 
A pianist from Around Town Entertainment played a mix of classic love sounds like "You and I" Stevie Wonder, "Unchained Melody", "How Long Will I Love You" Ellie Goulding, and more while guests walked in and seated. When the bridesmaids and flower girls walked in, the pianist played an instrumental piano version of "I Will Always Love You" Whitney Houston. Then, the bride walked down the aisle to "I Can't Help Falling in Love" Elvis sung by the uncle of the bride. The bride and groom exchanged vows and made their first kiss as the pianist played  "Whole New World" Aladdin while friends and family cheered them on.
After that, pictures were taken and the cocktail hour began. Around Town Entertainment provided a jazz trio that played classic blues to set the mood while guests enjoyed View Point Hotel's beautifully landscaped lawns. From the lush lawns to the ocean-front terrace patio, this was one of the most beautiful venues on the East Coast.
Immediately following cocktails was a beautiful reception held in the outside tent. The Around Town Band from Around Town Entertainment played "This Will Be Everlasting Love" Natalie Cole as the  bride and groom made a dramatic entrance through a granite staircase to the reception tent. Then the bride and groom held their first dance to "Feels Like Home" Chantal Kreviazu. The father/daughter had a touching moment as the pair performed a dance to "My Girl" Temptations. The mother/son also had their intimate moment to "Somewhere Over the Rainbow" Israel Kamakawiwoʻole. After that, there were more dancing as guests packed the floor and enjoyed cover songs of Bruno Mars, The Temptations, Walk the Moon, and so many more to end a fabulous night!
Congratulations Brittany and Michael!
For live video footage related to Around Town Entertainment please visit www.aroundtownent.com