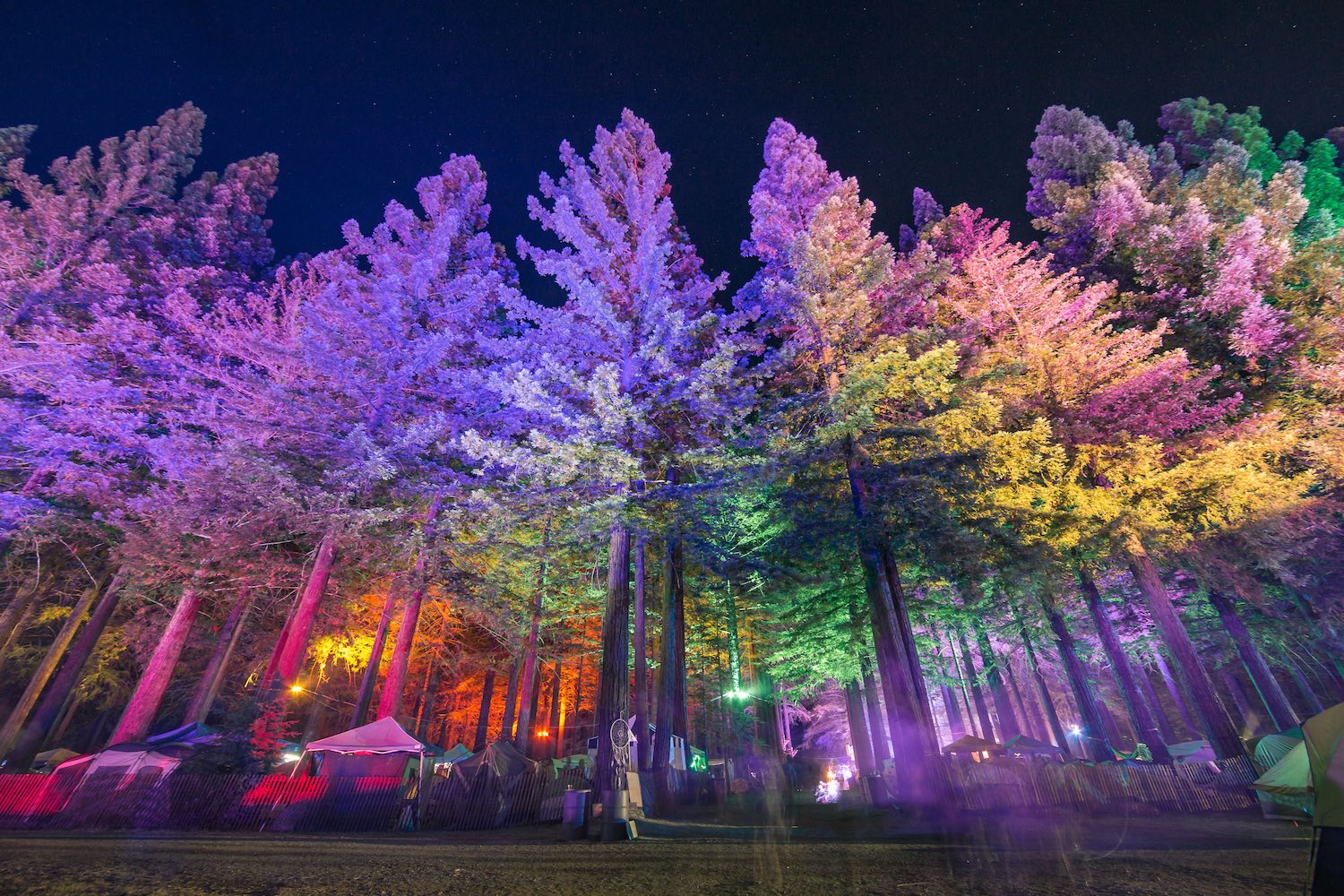 Ethan and Mathew met at a music festival called Lightning in a Bottle in Bradley, CA. Matthew was parked just 2 cars over from Ethan when their group asked if they wanted to join in and have a giant tent area for the large group between the 3 cars. The two absolutely fell in love with the experience all together!
A few years later, Ethan knew he wanted to propose to Mathew at the same festival at The Do LaB stage, where they first met. For them it was one of the few places on earth where they can just remain in the moment instead of worrying about work, bills, or anything else. It was just a magical feeling!
So Ethan turned to his friends for help with the proposal. And help they did — all the way from conception to execution with the group that they met the first time. They started to hand out flowers while Ethan got down on one knee as Mathew finally noticed. The flowers kept coming and both of them were shaking like crazy. Tears, hugs, and all their good friends came to celebrate with them as they enjoyed the rest of the weekend's main acts.  
Ethan and Mathew held their wedding at The Conservatory at the Sussex County Fairgrounds in Augusta, New Jersey and we can't say enough good things about it! The venue is so beautiful — the main building is all windows and glass, there's even a farm building connected where there were very rustic and really nice looking string lights set up, as well as a cute suite for the bridal party, and the outside area of the venue had these little cute gardens that were great photo ops! 
The ceremony was set up outside in the Zen Garden with all the landscaping, greenery, and acoustic guitar set from Around Town Entertainment. It was breathtakingly beautiful especially in the day with the sunshine. It honestly could not have been a more perfect day.  
Everything about the main reception area in the Conservatory was simple, yet elegant. The main ballroom accommodated 200 of their guests including a large dance floor and photo booth. The After Party Band from Around Town Entertainment was the musical act for the evening. The outdoor terrace area was perfect for the cocktail hour, where there were backyard games and live music from a jazz trio from Around Town Entertainment.
Every aspect of the wedding reception felt seamless and everyone had a blast. The dancing never stopped, the photo-op moments in the courtyard never stopped, and guests never stopped complimenting how perfect the day was.  We would not hesitate to recommend it to anyone looking for the elegant, relaxed yet stylish vibe. The night was perfect and we will remember this forever!
Thank you so much Ethan and Mathew for inviting us out to your special day. It was better than we could have ever imagined!