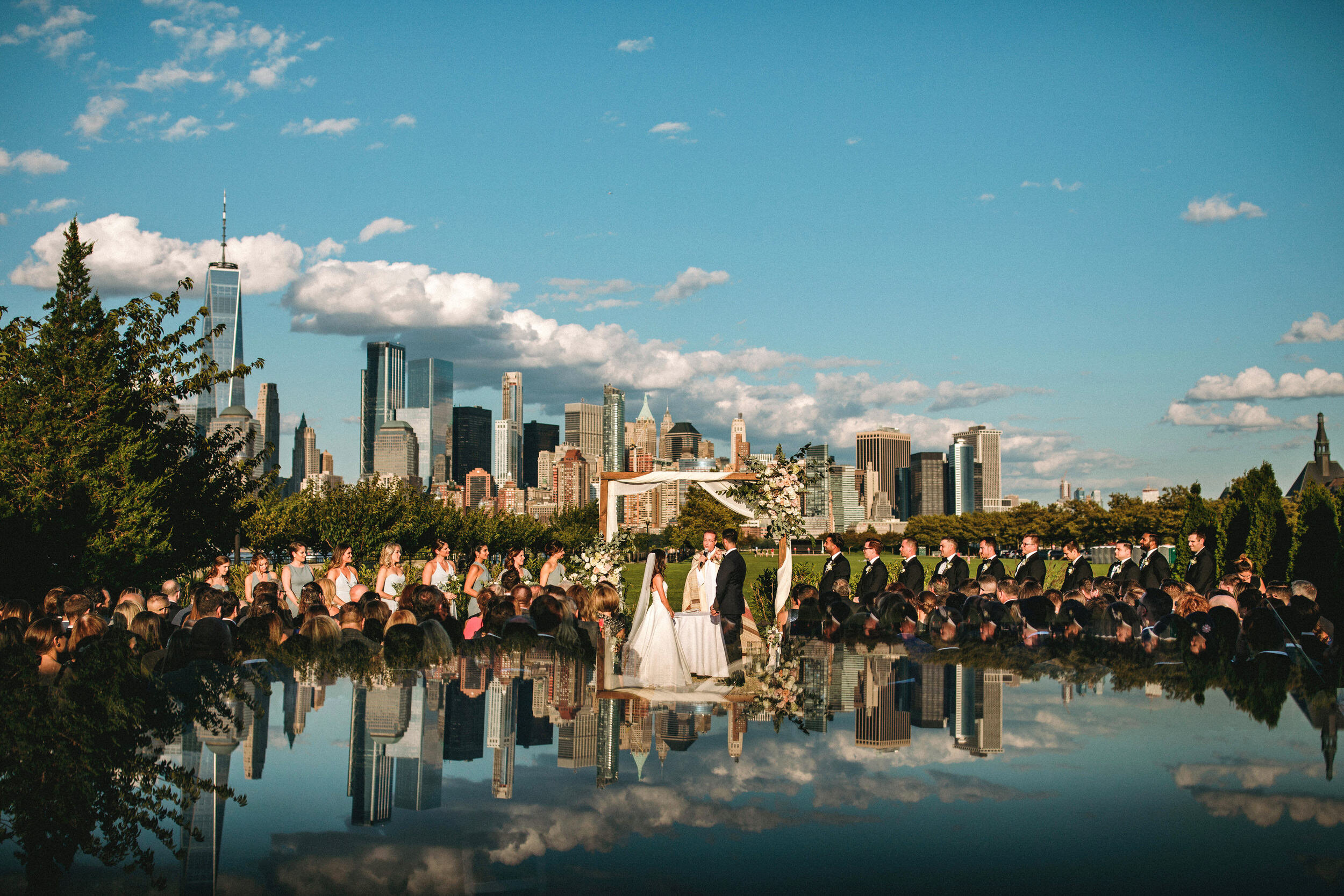 It was March 20, 2021.  All guests arrived at their finest to witness the celebration of Maria and Sam.  It was their wedding night, a long-anticipated evening that finally arrived!  The bride and groom were nervous and excited as they looked on from their private and exclusive balcony where they were preparing for the big moment.
The music began and everyone knew it was time.  The ceremony was about to begin!  A pianist and classical violinist played the perfect songs to set the mood.  The first song, "When The Right One Comes Along" by Allen Chang could not have been more appropriate.  The groom and the rest of the bridal party entered as the crowd hushed.  They walked down the aisle towards the towering floor-to-ceiling windows that overlooked the Hudson and gave the perfect picturesque view of the New York City skyline.  This is one of the most extraordinary features of the Liberty House Restaurant In Jersey City and the perfect reason that so many brides and grooms select this venue for the wedding celebration.
The duo from Around Town Entertainment concluded the first song and the room fell to a silent hush as the guests rose to their feet in honor of the beautiful bride who was about to make her entrance.  The classic song, Canon In D began and the groom gazed upon his stunning bride.  They met and shared the most beautiful vows and soon were wed.  The crowd cheered Mr. and Mrs. Sharf as they exited the ceremony.  The Grateful Dead song "Ripple" was a unique and a special choice by the bride and groom for the recessional song.
The guests made their way to the cocktail reception and they enjoyed the lively music from the jazz trio also provided by the New Jersey Wedding band company Around Town Entertainment.  Soon after it was time to dance with Around Town Entertainment's reception band, called the Around Town Band.  The reception began with music exciting entrance music for the bridal party and the bride and groom.  The bridal party marched into the room with the song "A Little Party Never Killed Nobody" by Fergie.  The bride and groom were introduced into the room with the classic hit "Signed Sealed Delivered" by Stevie Wonder. 
It was now time for the intimate and official first dance.  The couple joined hands and held their embrace as the singer performed Chris Stapleton's song, "Joy Of My Life."  Then the father of the bride joined his daughter for the next special dance.  They danced to the song, "My Little Girl" by Tim McGraw.  The groom then escorted his mom to the dance floor and they had a special dance as well to the song "Days Like This" by Van Morrison to close out the night. It ended up being the most perfect, magical day.
Thank you Maria and Sam for inviting Around Town Entertainment to be a part of your major milestones!