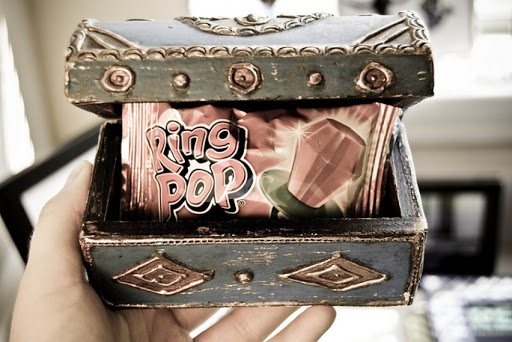 David proposed to Jillian at home with a giant ring pop. He knelt down on April 1 and Jillian's response was, "Are you serious?" Of course, when she realized that this was not an April Fools' joke, she immediately said yes. After years of dating and traveling the world together, they were ready to make the big commitment to each other. The proposal was sweet, authentic and totally David. The fact that it was a strange day to ask someone to marry him didn't even enter his mind. 
Jillian remembered being shocked and surprised and incredibly happy that this was finally happening. Then they both realized that it was April Fool's, and they questioned whether or not to tell anyone. This was such a special moment for the two of them and so they decided not to tell any of their friends. It was their little secret!
Afterwards, Jillian immediately phone home to let her mother know the good news. Her mother could not believe it. At first, her mother had a strange reaction and told David to stop joking around. Jillian insisted that they were serious. It was all sorted out eventually, and her mother was happy for both of them. 
Now, a year later and they were almost at the big day. The mother helped David and Jillian plan the wedding. She had high recommendations for Around Town Entertainment for the live music after seeing them perform live at other weddings she had attended. Around Town Entertainment was honored to have been chosen for their very special day.
On November 1, 2019, Around Town Entertainment's A-List Band traveled to Delamar Greenwich in Greenwich, CT to play a special set for David and Jillian's wedding. We love playing at Delamar Greenwich because it is always a wedding experience that surpasses every bride and groom's expectations. Set against the backdrop of the beautiful Greenwich Harbor, this property has been a destination wedding location for years. 
The night was held in the beautiful Delamar Greenwich Ballroom, filled with intimate decor, along with its waterfront terrace views which made it the perfect spot to celebrate. The bride and groom made their grand entrance while the wedding band played "Happy" Pharrell Williams as the guests cheered and sang along.  Next up The A-List Band from Around Town Entertainment played an emotional ballad of "Our House" Crosby Stills Nash & Young as the bride and groom held their first dance. The celebrations continued as the wedding band played more cover songs of The Eagles, The Beatles, Ed Sheeran, and many more to end a night to remember!
This was another successful showcase by A-List Band. The band's decades of music experience will sweep you off your feet and ensure that your special requests will be honored and performed seamlessly. Every song list is prepared carefully according to your every request. Our band specializes in every music genre and we can perform a wide range of the most popular to the most up-to-date songs. 
Visit our website www.aroundtownent.com to book your band today!